« Latest News
Savay Launched Successfully
Wednesday 12th June 2013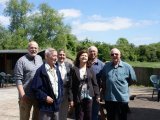 On Saturday we launched The Savay Chronicles at the Horse and Barge and it really was a great day. Many of the contributors, as well as old Savay members, turned up and it was nice to see old mates meeting for the first time in years.
The reaction to the book was nothing short of staggering, but I think, without blowing our trumpet too much, that's what we've come to expect of any of our books. We really do strive to produce the best book we possibly can, and the general opinion seemed to be that we certainly hadn't failed with Savay.
Although only having been launched for a few days, over 1000 have already been snapped up, which leaves a little over 800 left. Bear this in mind, because we still get people asking us if we have any Wraysbury Chronicles left (which we don't) because they thought they'd buy it 'a little bit later'. Wraysbury sold out within 3 months and I see Savay being no less popular, so don't say you haven't been warned!
I'm just putting the finishing touches to Dave Jones' wonderful Romancing the Carp, and this book will be launched on 21st September at the Land's End - the countdown clock is already ticking. We're only printing 750 numbered copies so remember - we don't do bad books!
Next, it's time to immerse myself totally in Harry Haskell's book in preparation for the launch at the Land's End on 23rd November.
Before that, though, I'm going fishing for a few hours tomorrow with a rod, a float and some sweetcorn, just to ease my addled mind!