« Latest News
New Moon on the horizon
Friday 31st January 2014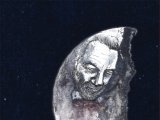 Pete Springate's 'New Moon Rising' is now at the printers, in readiness for the launch on March 8th at The Land's End Pub in Twyford, nr Reading, Berks. The following weekend we will be at the Carpin' On Show in Essex and Sir Pete will be with us at both of those events to sign copies of his book.
The book is now on our website for pre-order. At the moment we have a couple of leathers left and a couple of Special hardbacks, so if you fancy something a bit special please contact us on either of our phone numbers. We don't think they'll hang around for very long, so be quick.
The image is of the Special hard back.