« Latest News
CARPIN ON SHOW 2nd & 3rd March
Tuesday 19th February 2013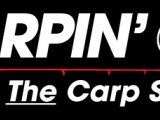 We are pleased to announce that we will once again be showing our wares at the 2013 Carpin' On Show in Essex (Five Lakes) on 2nd and 3rd March.
Along with selling the remaining few hundred copies we now have available of 'Carp Side of the Moon', the extremely popular book we launched in November'12 by Pete Springate we will also be launching a brand new book by Steve Briggs called 'Carping Horizons'.
This book details Steve's angling from 2005 to 2012, both home and abroad, and shows what a fine angler he is. Like most people who are very good at something, Steve makes it all sound so simple – no fancy rigs, no complex bait recipes, just things he is confident in and knows will not let him down.
Steve is only the third person to catch 100 carp in excess of 50lb, not only that but he is the only angler in the world to have caught them from seven different countries, and in the pages there are an astonishing 58 photos of carp over 50lb, and he is pictured with most of them! Obviously, a lot of these have come from abroad but Steve's most treasured capture is that of The Black Mirror from the Mere, which was voted Carp Capture of the Year by Carp Talk readers in 2010, and that chapter alone highlights what makes Steve the angler he is.
This is not a technical book, but just by reading it the reader will learn so much about what it takes to be a constantly successful angler, not only on some of the most difficult lakes in the world, but also when targeting large carp from small, local lakes – oh, and don't forget the winning of a second World Carp Cup in America.
We have only printed 1500 copies, and at 416 pages and a snip at £30 it should not be missed – we will also have the last few remaining copies of the 1st book Steve wrote called 'Cassien & Beyond' at a special price of £15.
We'll also have some great special offers for the weekend so make sure you come and say hello and pick up a bargain.
See you soon.