« Latest News
A New Book for Kindle
Friday 27th June 2014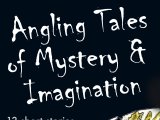 As well as releasing the French Carping book recently, we've also gone digital and have released a new Kindle book of short stories.
Angling Tales of Mystery and Imagination consists of 13 short stories of fishy fiction, ranging from tales of spooky lakes to how carp fishing in the future might look. Keith, Harry Haskell and Mark Walsingham have all contributed stories from their weird and wonderful imaginations, so, if you are Kindle-inclined, why not give it a go. The results could be surprising.
The book is available to download exclusively on Amazon for 90 days, then it will be available on all e-readers.