« Back to Authors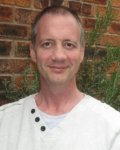 Phil Escott
Phil Escott was born in the sixties and grew up near the Colne Valley, failing to appreciate the full extent of the angling treasures he had on his doorstep until decades later when he lived too far away to take proper advantage of them.
When not being a complete hippy and living in buses and tipis, he has spent his time since leaving school in any endeavour that would rescue him from a nine-to-five job, dabbling in music, health and fitness, journalism, photography, gemstone trading and property development.
He is happiest when fishing, playing drums, on board a mountain bike or motorcycle, or heading east. He is the author of the Ayurvedically-inspired diet and exercise book "Pure Activity", runs the websites www.pureactivity.com and www.egod.tv and lives with his girlfriend Detta and their daughter Amelia.
Phil draws from his fishing experiences and his time spent in India, in search of enlightenment, and combines the two beautifully to bring us so much more than just another fishing novel.
This book is dedicated to those who realise there are veils to see through and those who help them to do so.