« Back to Authors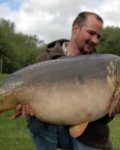 Mark Walsingham
Llewellyn Powys described the landscape through which the drove slices as "timeless" in his Somerset Essays, published in 1930. The unchanged patchwork of rich meadows and thick Somerset hedges is testament to the accuracy of his description and Powys would still recognise the countryside today.
At the end of the drove lies the area of ancient Somerset sedge called Ashmead. The area is the lowest lying part of the Yeo floodplain and remained too wet for agricultural use, despite the drains and pumps installed to manage the winter water levels of the moor. Originally used as a wildfowl shoot, Ashmead has always remained as a wonderful wetland habitat, remote, beautiful and rich in wildlife.
Tom Squires introduced carp into Ashmead in the early 1970's "from a Surrey trout farm" and I suspect that they may be some of the last carp produced by Donald Leney before his retirement. Under the ownership of Steve Maynard, these fingerlings grew to over fifty pounds in weight and today, Ashmead holds a good head of very large mirrors and commons. We run the lake on a syndicate basis and I'm afraid vacancies do not occur very often and are filled through personal recommendation.
Mark's website is designed principally for the use of syndicate members but I hope you enjoy browsing through the public galleries and can be viewed from the link that Freebird Publishing have on this site.